Looking outside at the grey sky, listening to the heavy rainfall, it's hard to believe that just a few weeks ago it was so hot that we decided to go to Lucerne and spend the whole afternoon on a boat, on a 3 1/2 hour tour of the lake.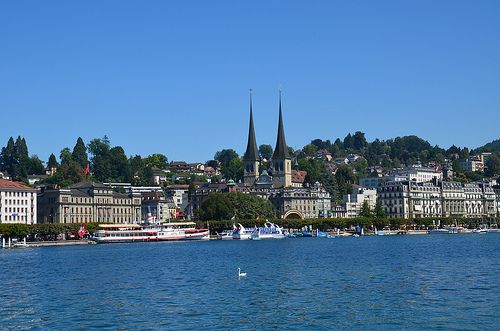 Lake Lucerne is of special significance for Switzerland: it was on its shores that the Swiss Confederation was first founded,  and it is on its shores that the greater part of the Wilhelm Tell legend takes place.
In fact in Switzerland, the lake isn't called Lake Lucerne at all: it is the Vierwaldstättersee, the lake of the four cantons; because the lake is actually "shared" among the four founding cantons of Switzerland: Uri, Schwyz, Unterwalden and Luzern.
As historically significant and renown as this lake may be, I have always felt fairly indifferent about it. I love Zurich above all other cities in Switzerland (though I do like Bern a lot!), and I have always found Lake Zurich far prettier than Lake Lucerne. But I love exploring, and so when my husband proposed we take the second-longest boat tour of the lake, I surprised him and myself by saying yes.
It's impossible to capture just how lovely it was. 3 1/2 hours is a long time to be on a boat, but on this lake it is far from boring. Because of the configuration of the lake, with its bends and arms reaching into the mountains around it, the scenery changes constantly. You turn a bend, and it looks like a completely different place.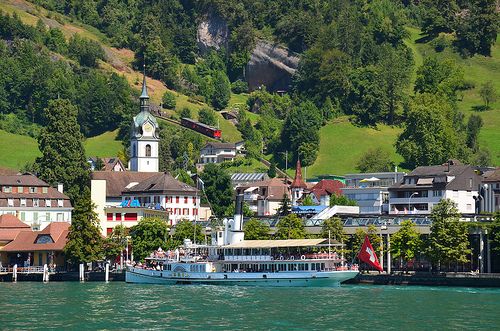 In many of the towns around the lake, there is a peculiar mix of architectural styles, with old churches standing right next to modern complexes built to take full advantage of the beautiful view; but very often you will look at the more isolated old villas, houses and churches visible from the water and you will feel like you just stepped back in time.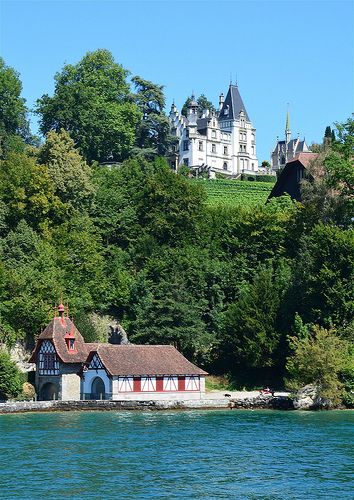 And because a large part of the shoreline rises up into mountains – the tallest of them reaching 1,500 m above the lake – you get a magnificent view of mountains like the Rigi and the Pilatus… from below.
This little outing gave me a whole new appreciation of what lays outside of Zurich. Ever since I moved here, I feel like I have been holding tight to Zurich, feeling that if I must live in Switzerland, this would be the only place I could consider calling home. And even when I visited some of the many beautiful places in this country, I always felt relieved to return to Zurich, with its busy streets and full social calendar.
But there is so much more. And now I find myself willing to give the rest of Switzerland a fair chance to capture me as much as Zurich has. Now if only it would stop raining, I might go exploring some more!
{ 13 comments }