One thing you will find in abundance in Zurich is closed lakeside and riverside pools, referred by the locals as Badi.
As a spoiled Sardinian I don't like swimming in the lake, so I never frequent them. However some of them take a whole different shape by night, when they are converted to lounge bars.
One such place – and possibly the most popular one – is the
Rimini bar
. Nestled in a quiet corner behind the Zurich
Börse
(Stock Exchange), just a few minutes away from the Starbucks I frequent the most (and where I hold the
book swap
) is an old, picturesque
Männerbad
(men's bath) that is the home of the Rimini bar.
I found it two years ago, when we first
moved back
to Zurich, and it was one of the things that reminded me of what I loved about this city: the mix of old and new, the picturesque antique buildings and structures turned into something modern without taking away from their character.
Events and special evenings are often held at Rimini, and one of them is the Montagsmarkt (Monday Market). A mix of vintage and creations from local designers, the Monday Market is not to be compared to the Curiosity Market – it's more like an embodiment of the fabulous side of Etsy, albeit a smaller, Swiss version of it.
This past Monday Rimini officially opened its doors for the summer season, so the first open-air Montagsmarkt of 2011 took place, with the usual array of handmade jewelry, clothing and decor, plus a fashion show and a cupcake stall.
Fashion, cocktails, cupcakes – need I say more? I was there of course! And what better company to enjoy it all with than my fellow expat and fabulous bloggy friend, Marisa?
We went

we saw

we browsed

we ate

The market was lots of fun, there were lots of original, affordable, handmade and vintage accessories that were right up my alley, from local shop owners like Jo Brauer, Nina Bee and others that will likely see more of me in the future
The cupcakes from Michelle's Cupcakes were adorable, and the people at the stand (I believe we had the honor of talking to Michelle herself) were friendly and absolutely lovely – something I am always extra appreciative of in Zurich, land of grumpiness.
However for a somewhat refined cupcake palate they weren't amazing: I prefer my cakes a little denser and my buttercream topping richer and creamier.
That said, if I was offered one at some point in the future I probably wouldn't say no – they were not bad and I probably would have enjoyed them more had I been new to cupcakes (as most people in Zurich are, cupcakes being a recent discovery here, as well as a current trend.)

As for the fashion show, I will have to resort to sharing photos by ausgang.ch, since Marisa and I decided to forgo the crowds for a nice walk and a chat.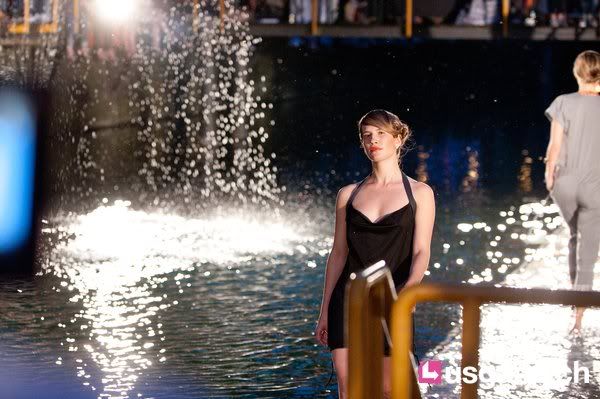 I will definitely return to Rimini, probably on a night when no special events are scheduled in hopes of it being a little less crowded.
As for the Montagsmarkt, I will definitely visit some of the individual designers (and tell you about it, of course!) and maybe pop by once summer starts, when I don't have to get up early the day after. 'cause if you cannot relax, there's no much sense in visiting a lounge bar, is there?
{ 10 comments }