Happy New Year!
I can practically hear you saying "Elisa, it's been over a week since the year started. Late much?"
Sorry, everyone. I always intended to wait a few days to write my first post of 2016, to allow us all to recover from our hangovers, lack of sleep, food comas, and all that comes with the holiday season; but I was delayed a few more days by the fact that my year started with a flare-up, and it took me a few days to quiet that ominous voice that, as it is according to Italian folklore, "what you do the first of the year, you do all year" which would suuuuuck. So let's not do that. This year, I am refusing to put stock in that particular bit of tradition and choosing to go instead with the more modern, empowering new year bit, which goes something like this:
Your year will go whichever way you stir it, babe.
There. That's much better, don't you think?
It's certainly more encouraging, more empowering, to think that what happens in the new year doesn't depend on what you were doing, wearing, saying, or eating as the year broke, but rather on what you will set out to achieve and what you will actually do once the year has started – in other words, now. (Or as soon as you are ready, really. I have no "don't dawdle" policy on my blog.)
So what exactly is it that we want to achieve in 2016?
Gosh, the pressure. Who made the beginning of the year the official time for making resolutions?
I suppose it is the idea behind it is that a new year is a brand new chapter, the beginning of something new that gives you complete carte blanche to do whatever you want with the rest of your life from this point forward. But really, you have that chance every time you open your eyes and greet a brand new day.
The control-freak in me is shaking her head as I'm typing this, because clearly it's always better to start a new diet on a Monday, to start a brand new notebook for a new project, and to greet the New Year with your resolutions ready, written down, because God forbid you don't have it all figured out when the ball drops! Perish the thought.
So that same control-freak part of me is a bit embarrassed to admit that I greeted 2016 without an exact idea of what I wanted to accomplish before the end of the year… but I'm ok with that.
A couple of years ago, I got tired of feeling miserable for failing to reach most of my New Year's Resolutions. At the time, there was a lot of talk of S.M.A.R.T. goals:
so I decided to kind of apply that to my resolutions, and started setting monthly goals instead. I called them New Month's Resolutions, and decided to share them on my blog, for accountability and support.
So if you are still foggy on what you want to accomplish this year, or if you have already set your goals for the year but are not quite sure how you're going to get there… how about setting monthly goals instead? You can make them align to one bigger goal, or just make them smaller projects you want to get done; it's up to you. A month is so much more manageable, isn't it? It's just a month! 31 days at the most. So take a big breath, and if setting out to conquer a whole year seems like a lot, just set out to conquer this month.
Here, I'll start — here are my goals for January 2016:
1. Join the Tone It Up Challenge and use it to make exercise a habit again.
Ah, the TIU Plan! The land of perky. (Whatever you assume that refers to, you are probably right.)
The Tone It Up Challenge is open to all, but this year Karena and Katrina made an especially good job with the members-only material, so it seemed like the perfect chance to take the plunge and join in. I'll have to modify most of the meals and workouts to fit with the Autoimmune Protocol, but the community is incredibly supportive and I can certainly use that!
2. Create and pilot a new editorial calendar for the blog.
Through the past couple of years, my focus has shifted a bit, and I want the blog to reflect that. There is a lot of rolling-with-the-punches involved in blogging, but I never want to feel like I have to blog about things I am not passionate about. And some posts definitely require a bit of planning… That's when the editorial calendar comes in.
If this sounds like something you might want to do too, there are some great tips to implement a workable editorial calendar for your blog here, here and here.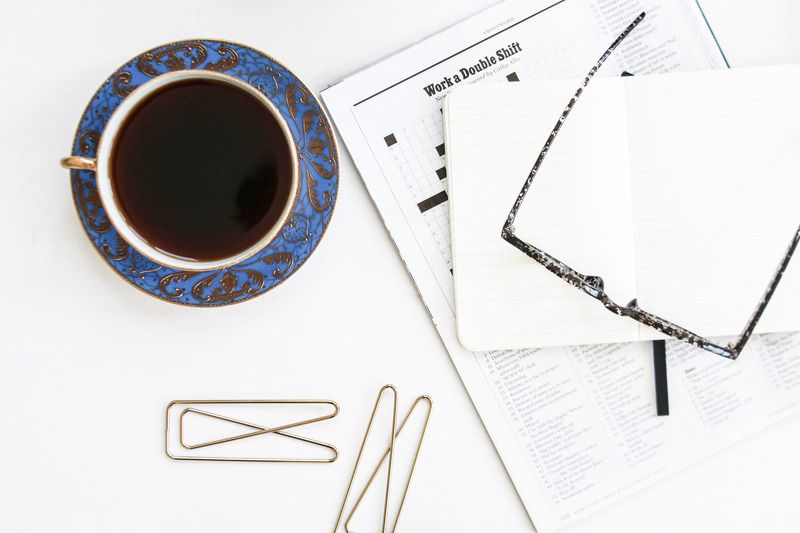 3. Figure out some long-term goals that I'd like to achieve this year, so I can make my short-term plans more focused and productive.
What? Your goal is to make goals?
Yes, it is. I think a well-thought-out goal has more of a chance of actually being reached.
Mind you, a goal made in a moment of strong inspiration can be great — there can be such a thing as overthinking, which is when we may turn into our own buzzkill (who, me? noooo, never done that); but especially when your life feels like a bunch of noise, it's good to sit down, take a beat after all the holidays whatevers have ended and take a look at your life, your work, etc, and ask yourself where you'd like it to go — without feeling like you have to do and become exactly what your mom, your boss, SELF magazine or society want you to do and be.
So here we go! Share one of your goals in the comments, or if you have posted about your goals already, link up your post below.
Have a great month, everyone!