I am finally over my nightmarish flu! Halleluja.
Thank you everyone for your get well wishes! It really brought a smile to my face, reading your comments – and those get well vibes worked, looks like! I'm back.
That darn flu did, among other things, steal over a week of productivity for me to get my January goals done… so let's see how far I got: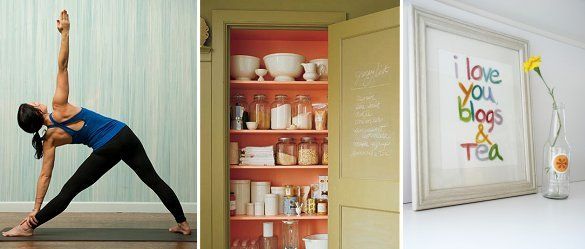 1. Start doing yoga again, on a daily basis.
Hmmmm… this may not have been the best idea. Because as much as I love yoga, when I set rules for myself that are too regimented, that invariably leads to me, how can I put it… pretty much running the other way. So whatever sounds fabulous and I have been loving, the moment I make it a rule… all of a sudden it sucks. And so after a week or so doing Sun Salutations every day, it started dwindling down into nothing, and I didn't find it appealing. It's my own fault, really; I basically spoiled yoga for myself. Hopefully it won't take me too long to get back into it, once I stopped feeling like I am forcing myself to do it.
2. Get the pantry decluttered and organized.
This is still in progress. But I did get some organizing done in the process, and I will post a few photos and some storage tips in an upcoming post.
3. Set aside one afternoon a week to learn something new that's blog-related.
This is a done! I read some articles and blog posts, and found some pretty cool podcasts as well. In fact I am enjoying this so much that I will definitely be keeping it up.
Now, for this month's goals: what am I going to focus on in February?
For starters, I have learned my lesson from last month and while I would love to set my eyes towards regularly doing barre, which is what I am in the mood for right now, I know that if I make that my goal, I will quickly start finding fault in my barre workouts, like I did in my yoga practice. Instead, I am going to shoot for the following:
1. Pick a physical activity, any physical activity, and dedicate a total of two hours a week to it, cumulatively.
Right now I am thinking barre, so Pop Physique, Pure Barre, Tracy Anderson, and maybe I'll get up to Physique 57; but if the mood strikes, I might do some calisthenics, Pilates, some walking, a short hike (watching out for the snow!), or whatever else inspires me. In other words, I am going to strive to just move. I realize that 2 hours is not a big deal to most people, but to someone who is still recovering from 2+ years of chronic fatigue, and whose energy levels vary wildly from one day to the next, it feels like a good goal.
Next, I'd like to pick something blog-related, and it has to do with tackling something many of us more or less despise: Mondays.
I don't know about you, but my average weekend is not really about relaxing: usually I have a course on Saturdays, so that eats up most of my day. Then there's the fact that I often schedule chores in the weekend that I cannot get done during the week, like assembling an especially large piece of furniture that requires two people to lift or hold, and such; or something definitely more pleasant but equally work-intensive, like hosting a brunch or dinner party with family and friends. So, after a weekend spent — let's just say it — working, Monday comes especially unwelcome, with its promise of "it will be one more week before you get a chance to sleep in or relax much at all".
So to make Mondays more bearable and to start them with a positive outlook rather than a groan and a grimace, last month I started posting a little inspiration on Instagram (which I also shared on my Facebook page). We can all use a little pep-up and inspiration, can't we? Especially at the start of the week. So this month I will
2. Select and share an inspiring message at the beginning of each week, to help us tackle the upcoming week with a positive, energetic attitude.
And speaking of getting inspired to action– the blogosphere has been ablaze with posts about capsules wardrobes and decluttering like you're on a mission. The results: a streamlined wardrobe made up only of clothes you like, so you get ready faster, you have more space, and you instead ship off all your unwanted, unneeded, possibly-fabulous-but hardly-ever-worn clothes to the Goodwill, where they might be scooped up by someone who needs them more, or possibly just wants them more and isn't yet ready for a capsule wardrobe. It's the circle of life, really.
So, inspired by tales of more spacious closets and tidier rooms, I have decided to make my closets the next focus of my decluttering efforts. So my goal in February is to
3. Completely declutter my wardrobe — including shoes, handbags, lingerie, and everything else — until it only includes items I actually like and wear.
In other words… I got my work cut out for me. Wish me good luck.
So… here are my New Month's Resolutions for February. What are yours? Tell me in the comment, or link up your own resolution post!
Image credits: 1. compiled from images owned courtesy of Cosmic Yoga Studio, Martha Stewart and MadebyGirl; 2. Well&Good; 3. GiH on Instagram; 4. Nina Holst.