Ah joy! Spring  has come to Zurich! And that makes me so very, very happy.
As an island girl, winter is not exactly up my alley and I often wish I could go into hibernation just to avoid those cold, gloomy months. So when the warm weather finally comes back around, I feel like I come back to life (which is unfortunate for those who already found me annoyingly perky in the colder months – sorry folks!)
When spring rolls around, I immediately want to get rid of all those chunky, heavy and just plain cumbersome winter clothes – it's like the moment the sun shines I get this neon sign in my head that says "LIGHTEN UP!" and that also goes for something else: food.
In winter I crave stews, cooked veggies and soups… and let's face it, I am not immune to the siren call of fondue or raclette. In spring and summer I crave fresh, cooling foods, and I feel much better when I choose lighter, fresher foods: fresh fruits and veggies, big salads, and of course you know I love my green smoothies.
Something I find really helpful in transitioning from heavier foods and less outdoor activities to spring-ready is a little detox. Now, stop rolling your eyes, and hear me out: I hate buzzwords as much as you do. But when I say detox, all I mean is a short period of time when you really focus on giving your body the chance to work at its best by ridding it of things that might be getting in the way of good performance.
One popular opinion about cleanses is that, much as they may sound good, they just seem like waaaay too much work. Because seriously, when you have a job and/or a family to take care of and cook for, it can seem more than a little daunting to go on a juice fast for a few days. And don't get me started on the whole "drinking only lemon water with cayenne pepper for 10 days" thing (which I haven't attempted, nor do I plan to.)
The good news: there are easier ways to go about it. It is entirely possible to support your body's need to lighten up its toxic load without dedicating all your time and attention to it. I recently tried out a different approach by doing the Kaeng Raeng 3-day soy-free cleanse and I was pleasantly surprised!
I first heard of Kaeng Raeng on LaurenConrad.com, then read about it on InStyle, but I only took the plunge a couple of weeks ago, when I found out about their new soy-free formula.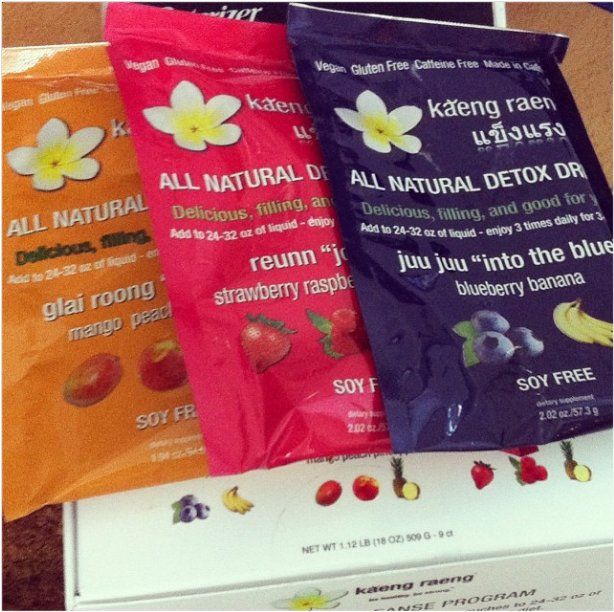 I really, really like their packaging. The box contains all the smoothie packs as well as the instructions. The pouches are basically color-coded, the design is bright and fun and each pouch is perfectly sealed, so totally portable. On day 2 I was out and about so I just popped a shaker and a smoothie pack in my bag, then at lunch I added the contents of the pouch to an organic smoothie I got at the health food store, and that was that: a delicious, nutritious smoothie. It is SO much easier to stick to your plan when it requires so little work!
I also give it a thumbs up when it comes to texture and taste: the Kaeng Raeng formula is so fine that it results in a really smooth, creamy shake, no matter whether you use a shaker or a blender. And because the flavor isn't as overpowering as some other vegan protein powders, you can mix it with whatever you choose – I tried it in a green smoothie
a fruity smoothie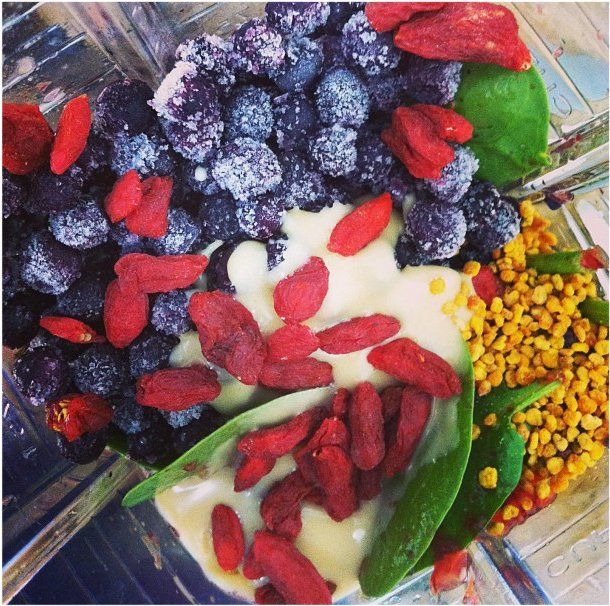 and even a green juice
and it worked out great every time!
So why not give it a whirl? You have a chance to win your own Kaeng Raeng soy-free 3-day cleanse package right here! And you may enter no matter where you are, because Kaeng Raeng ships all over the world! Go on then… and may the odds be in your favor 😉
Disclaimer: I received a complementary 3-day soy-free cleanse package from Kaeng Raeng to try, and one to give away to a reader. I have not been otherwise compensated for this post. All opinions expressed here are my own.