It's been a bit stressful around here. People always tell you to take some time and relax, when you are stressed.
But lack of activity is never the answer for someone like me – I never find rest to be quite so… restful. Instead, I find myself bored and irritated, and everything gets on my nerves, which isn't exactly the effect you want to achieve when trying to de-stress.
Nope.
The best de-stressor, for me, is a break in routine. Travel is the ultimate de-stressor, 'cause what better break in routine could there be than going someplace new? But since I can't just dump my family and go Gotta de-stress, I am off, see ya!, I opted for the next best thing: find someplace new locally.
Friday night offered the perfect opportunity. You see, after a moderate amount of cajoling by my friend Marisa, last week I joined InterNations, and registered to attend an event that was happening just a couple of days later – that is, last Friday night.
The event was at the Hiltl Pflanzbar, located in Kreis 1, right at the center of Zurich.
Pflanzbar is an amazing space: sleek like a private club, all dark wood and leather stools, but everywhere I turned were amazing flower arrangements and gorgeous decorating accents, lined up on wooden crates and shelves. I loved the mix of high and low, of polished and rough, both in the decor itself and in the array of flower arrangements surrounding us.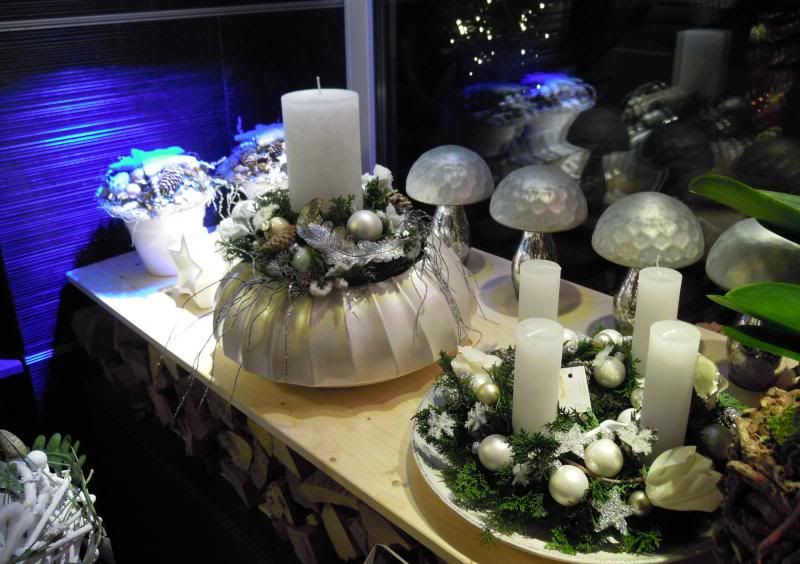 And there were a few quirky touches as well, like an angel on the ceiling
and a disco ball and strobe lights.
We were lured to this fabulous space by the promise of Hiltl catering and Swarovski's latest designs
but once we got there, the lovely company was already enough to make us want to stay!
The atmosphere was fun and relaxed, and everybody was chatting easily, even though many of us had never met before. What a great group of ladies!
Needless to say, this won't be my last InterNations event… nor will it be my last time at Pflanzbar.
If you want to check it out, pop in for a glass of wine and a bite to eat, or to get a gorgeous centerpiece for a party or a beautiful gift for a friend, definitely go take a look: Pflanzbar is located at Talstrasse 62 in Zurich, very close to the Old Botanic Garden (how apt!) and the Schanzengraben.
Here's an easy way to find it: stand opposite Wagamama and walk away from it; you'll find Pflanzbar after about 200 meters, on the right.
Trust me, it is worth looking for.
What cool places have you discovered lately in your area?