Spurred by the sudden freedom from strict schedules brought on by summer break, a few weeks ago I vowed to continue what I had started with the Green Smoothie Challenge and dedicate more time to taking care of myself, creating healthy habits without falling into the obsessive dieting trap.
I have been dieting on and off for 12 years. It has done nothing but completely trash my metabolism, make me miserable and make me gain more weight. Enough of that. I have decided to stop punishing myself and instead start being kinder to myself.
The way I have looked at and thought of myself in the past… I haven't been very kind. There has been a lot of negative self-talk, a lot of put-downs and criticism. And what's shocking is that I am not an unkind person. I would never, ever even consider treating anyone the way I have treated myself. 'Cause that would be extremely mean! Which begs the question: what makes it ok to be mean to ourselves?
No more.
From now on I will focus on being healthy and feeling good.
I will stop hating my body – heck, even make an effort to start loving it, plus-size curves and pregnancy stretch marks and all.
I will stop focusing on what people might see when they look at me, and start focusing on how I feel, basing that on my actual well being, comfort and feelings and not on what someone else's perception of me might be.
I will stop feeling self-conscious about my body and start feeling empowered by the fact that there is so much more to me that my pant size.
And I will stop with all the negative self-talk. How can I expect to be treated fairly and kindly from others, if I won't treat myself that way?
No more.
I'll have to work at it… but I'll get there.
Yes, I would love to lose weight. But I am not willing to do that at the expense of my wellbeing, my happiness, a balanced life. I am not willing to let "losing weight" be the first thing I think of when I wake up in the morning and the last thing I think of when I go to bed at night; nor am I willing to let it take first place on my list of priorities. There is a lot more than I want to accomplish!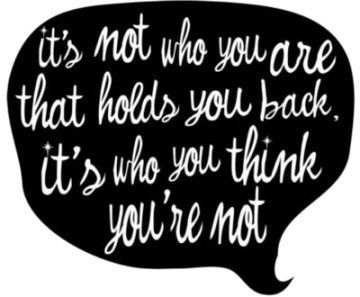 I don't have to be skinny to accomplish my goals and live life in full; I have to be healthy and believe in myself and be willing to work hard, and those are much better qualities to have.
This isn't to be taken as a diss on all skinny girls out there; it really isn't.
This is me saying to you, no matter  whether you are a size 2 or a size 22, no matter whether you exercise for fun, health or vanity (or whether you exercise at all, for that matter!! ), no matter  your weight, your height, your body shape… please be kind to yourself.
Because you deserve kindness, and to be loved and appreciated for who you are.
Because you are special – after all, there is only one of you!
111111111