I did it. I finally got a haircut!
I am embarrassed to say that it had been 6 months since my last one. The reason: I find the whole experience of getting a haircut in Zurich horrifying. I tried quite a few salons in the area, and while the price was invariably high, the results varied from "meh" to "WTF did she just do to my hair???" – hence my terror about walking into a salon and handing over the reins to someone who, if experience serves, will likely more or less butcher my hair and then charge me 120 Swiss Francs for it (which translates, with the current exchange, in 133 US dollars or 83 UK Pounds.)
Don't get me wrong, I am more than willing to pay that and return every 8 weeks, if I am happy with the result. But so far… not so good.
I got my last good haircut on my last trip to London, at Toni & Guy, which seems to be the only place where they know how to handle my hair. Unfortunately going to London right now is not an option, so… I have been walking around knowing I need to get a cut, and dreading it.
But while in Italy, I stepped into a salon where most hair stylists seemed to have artfully layered and/or beautifully highlighted hair, so I decided to give them a chance. When I sat down, I was hoping, in addition to an artfully layered cut, I would also get… BANGS.
I LOVE thick, blunt bangs
but truth be told, I wasn't sure they would be flattering on me, and apparently that double whorl that makes it possible for me to wear my part on either side also makes bangs a bit of a high-maintenance affair; so a long side-swept fringe sounded like a better option: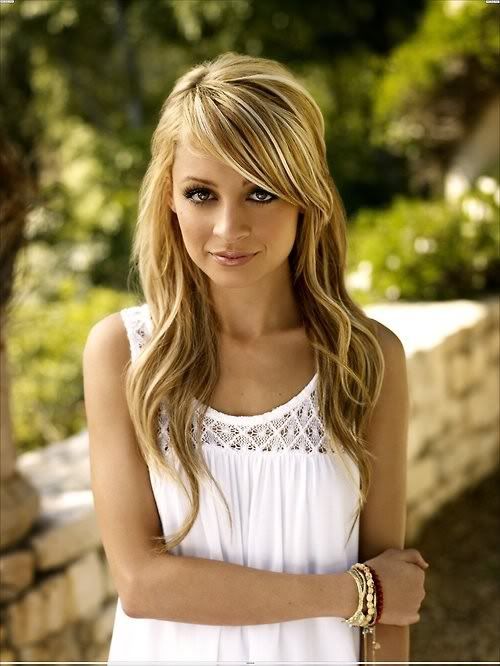 Truth be told, I was worried about asking for a fringe, seeing as the last time I asked for one I got super-short, wispy, barely-there bangs that belonged on an 80s shampoo spread or something equally horrifying. So I'll stick with what I have, thank you very much.
How about you? Do you like bangs? If you love them but are on the fence about getting them because of the styling part of it, this might help: here's how to blow dry them to perfection.
Image credits: 1. Super Hair; 2. Emma Balfour by Sam Hanskins; 3. Vogue Japan (June 2011 issue); 4. InStyle.com; 5. Jack Guy.
All images via Pinterest.