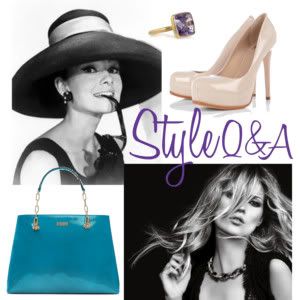 "I'm desperate. I have been invited to an event requiring a long evening dress, but my style is much more along the lines of jeans and leather jackets. In a long dress I'd feel like a fish out of water. HELP!" – Connie
Attending a special occasion can sometimes mean stepping out of our comfort zone. The destination, style and activities involved are picked by the hosts, and sometimes they are not exactly right up the guest's alley.
When it comes to wardrobe choices however, we can usually add a few tweaks to make the dreaded dress code less painful and more fun.
In this case, I thought that perhaps looking to some real-life inspiration might make a better argument for tweaking the "long and dressy" look to make it more approachable.
The first example comes from one of my favorite fashion bloggers: Blair of Atlantic-Pacific. Look here, how she compiled a look that is elegant but with a very young, modern twist: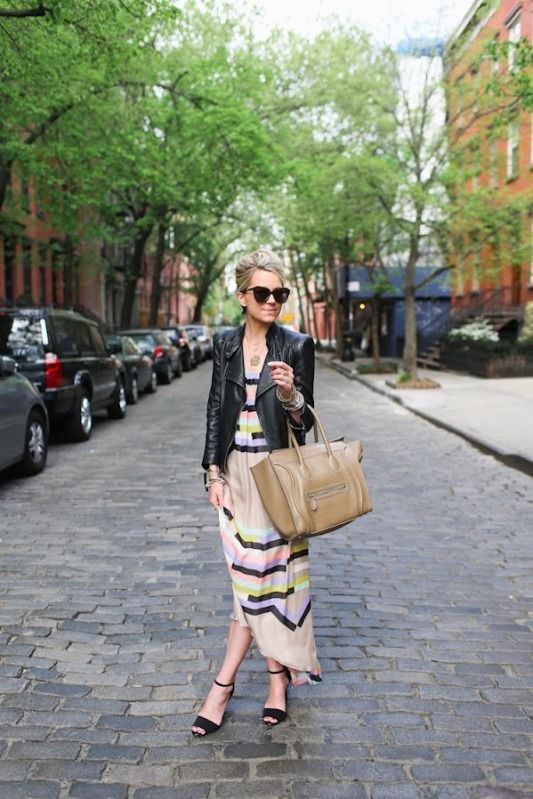 The central piece of the outfit is a dress that is colorful enough to be young and fun, but because it's made of silk chiffon it can be interpreted in a more grown-up way, as well – as Blair did here, by adding the classic updo and black heels. But here comes the fun part: the layered jewelry plays up the boho feel of the dress, and the leather jacket adds a touch of edgy. Translation: perfectly lovely, and incredibly fun.
Emily from Cupcakes and Cashmere (another favorite of mine) also has a knack for mixing styles and textures to get that perfect blend of feminine and modern. Here she takes a floor length strapless dress  and dresses it down by adding the right accessories (check out the belt!)
Another example of how a belt can transform a dress, from the photoshoot Olivia Palermo did for Tibi: look at the effect this chunky vintage belt adds to this silk number. The sunny hue makes the dress more versatile but no less elegant.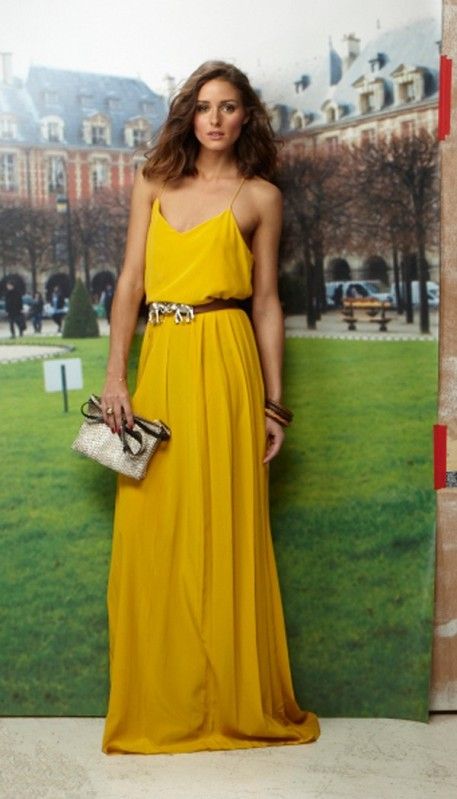 I hope by now the thought of a floor-length dress isn't quite as scary. The trick: rather than picking a gown which might make you feel like you are playing dress up, and will possibly be a piece you will never wear again, choose a simply cut ankle- or floor-length dress in a beautiful fabric (silk chiffon is a great choice) and add the right accessories.
Here are a few examples, inspired by the pictures above:
In this set: Monsoon dress, Alice by Temperley leather jacket, Lanvin heels, BCBG clutch, Reiss stackable rings, Jacob nail polish
In this set: Aubin & Wills dress, Rupert Sanderson sandals, Marc by Marc Jacobs clutch, Steve Madden belt, Topshop rings, JCPenney earrings.
In this set: Wallis dress (similar one here), ModCloth bracelet, H by Halston clutch, Stone belt, Nars nail polish in Night Club (similar ones: Sephora by OPI 212-Sephora and China Glaze Midtown Magic), Follow Me wedge sandals.
In other words, a dressing code indicating a long dress doesn't mean you have to look all romantic and sweet like a fairy princess, if that isn't your cup of tea. You can look perfectly lovely and occasion-appropriate, and still inject your outfit with your own personality.
I hope this helps, and that you have a great time at your party!
Need help with an outfit? Get in touch.
Image credits: 1. Atlantic-Pacific; 2. Cupcakes & Cashmere; 3. Olivia Palermo for Tibi.